A Cheese Shed Guide To The Perfect Cheeseboard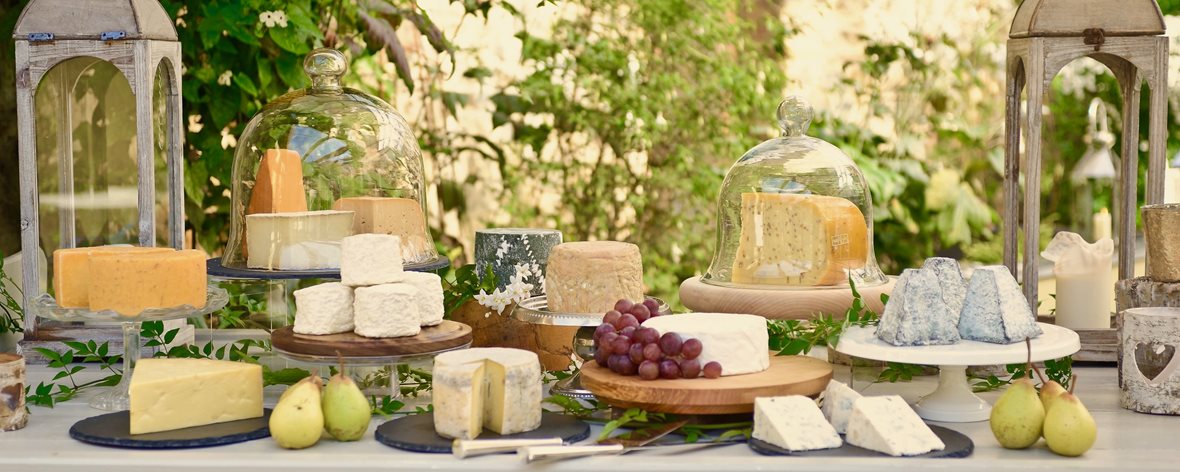 No. Hang on. Perfect cheeseboard? That's a bit silly. Because there are a milllon different ways of putting cheeses together ... and no Right Way to do it. Food should be fun, after all, not something hedged about with rules. If putting cheeses on a plate is something that brings on a frown, something's definitely gone wrong somewhere.
Having said that, the world of cheese can be bewildering if you're not used to it. All those different types and styles - and lots of unfamiliar names. Trying to create a cheeseboard can be very confusing! So given that the season of parties, gatherings, picnics and - of course - weddings, is here, we probably ought to try to help. With that in mind, therefore, here's our Four Point Plan for creating a wonderful cheese selection:
1: Quantity
First of all, you need to work out how much cheese you might need. Use our trusty rule-of-thumb and allow 100g per person at the event. That means 50 people need 5kg, 75 people need 7.5 kg, and so on.
It's not terribly scientific, but over the years we've found it pretty useful. If there's tons of other food, reduce your quantity a bit; if the cheese is the star of the show, push it up.
2: The Core Trio
Think of your cheeseboard as having a core trio, with other types and styles added on. The core trio is cheddar, blue and brie. These are such popular types that you probably can't go wrong by including them. It doesn't matter too much which ones you opt for, but why not take the opportunity to give your guests some particular versions of these cheeses that they might not know? Our 'thing', of course, is 'great cheeses from off the beaten track', so here's your chance to delight your guests with top-notch cheeses not always as well-known as they should be, like Quicke's Vintage (cheddar), Devon Blue or Kelston Park (brie)?
3: The Others
Just cheddar, blue and brie would be a bit dull. Well, we think so. Which is why, having chosen those three, we recommend adding representatives from a few other cheese 'families'. Pick one from any of these categories and you're going to be giving people variety ...
Flavour-added cheeses, i.e any cheese that has had some other ingredient added to it. Cornish Gouda with Fenugreek, Sharpham Rustic with Garlic & Chives, Dartmoor Chilli ... there's quite a few to choose from.
Smoked cheeses are another possibility. How about Smoked Wedmore (a caerphilly, so - mild) or something stronger like Dorset Red? There's also a lovely smoked brie, which is unusual: Smokey Duke.
A goats' or sheeps' milk cheese. Got to have some of these - surely! On the site, goats are here, sheep here. Too many to mention, really ... but if you fancy a plain hard cheese you could check out Melbury (sheep) or Ticklemore (goat). Something more exotic? Maybe the vine-wrapped Eve or the wrinkled rind of Dumpling might appeal. For a classic soft goats' cheese, White Nancy is probably the one.
A washed-rind cheese. 'Washed rind' isn't a term in common use, but cheese people know it as a particular technique associated with French cheeses. Yes, ok: the smelly ones. So if you like those, you'll be glad to hear there are plenty of this family being made over here now. Merry Wyfe, Morn Dew and Helford White are just three ...
An alternative hard cows' cheese. Good to add a non-cheddar hard (or hard-ish) cheese, we always feel. You could go for one of the old traditional UK cheeses, like a double gloucester (Smart's), a red leicester (Westcombe Red) or a caerphilly (Duckett's). Or ... try cheeses with a continental inspiration, such as Kern or Cornish Gouda.
So now you should have an idea how much cheese you need, and have identified cheeses for your 'core trio' along with representatives of several other families. Just one more thing to do!
4: Colour, Texture, Shape
Before you finalise your choice, do one more thing. We've looked at quantity and at how to get a range of different flavours. But let's just consider the visual aspect, too. Because I think one of the glories of cheese is how it looks - and if we can create a cheese table that looks great as well as tasting great, why wouldn't we?
So let's just see if our selection is going to offer something good to look at. Does it have a range of different colours, textures and shapes?
Colour. There are plenty of cheeses that will give you an orangey colour - either on the rind or all the way through. Then there are the yargs (regular or wild garlic) with their coverings of green leaves. Waxed cheeses can give you yellow (Meldon), black (Curworthy), or red (Dartmoor Chilli). Washed rind cheeses (see above - Keltic Gold is an example) are often a pinky-apricot colour. There's the blue veining in blue cheeses, the white rinds of bries and camemberts, the mottled greys of some goats' cheeses ... the possibilities for colour go on and on!
Texture. Try and have some with rinds which offer texture and visual interest... Sharpham Rustic is one we really like but there are many more. Something like the little sheeps' milk Dumpling has an amazing wrinkled appearance, and elsewhere there are things like the speckly Pepperdon and fennel-pollen sprinkled Drogo.
Shape. Finally, let's mix things up a bit on the shape front. Some big cut wedges, yes, but also at least one cheese that is presented whole. And why not look at some of the more interestingly shaped cheeses you can see in the soft, or goat and ewe departments? There are squares, hearts ... we've even got pyramids!
And that's it! You've worked out your quantity, chosen your core trio and a few nice 'others' to keep things interesting ... a balanced and varied selection of cheeses that will make peoples taste buds leap for joy. Finally, you've made a few tweaks to the list to make sure it looks great too. You've created a great cheeseboard which will be the talking point of the whole event!