What Else Might You Eat With Cheese?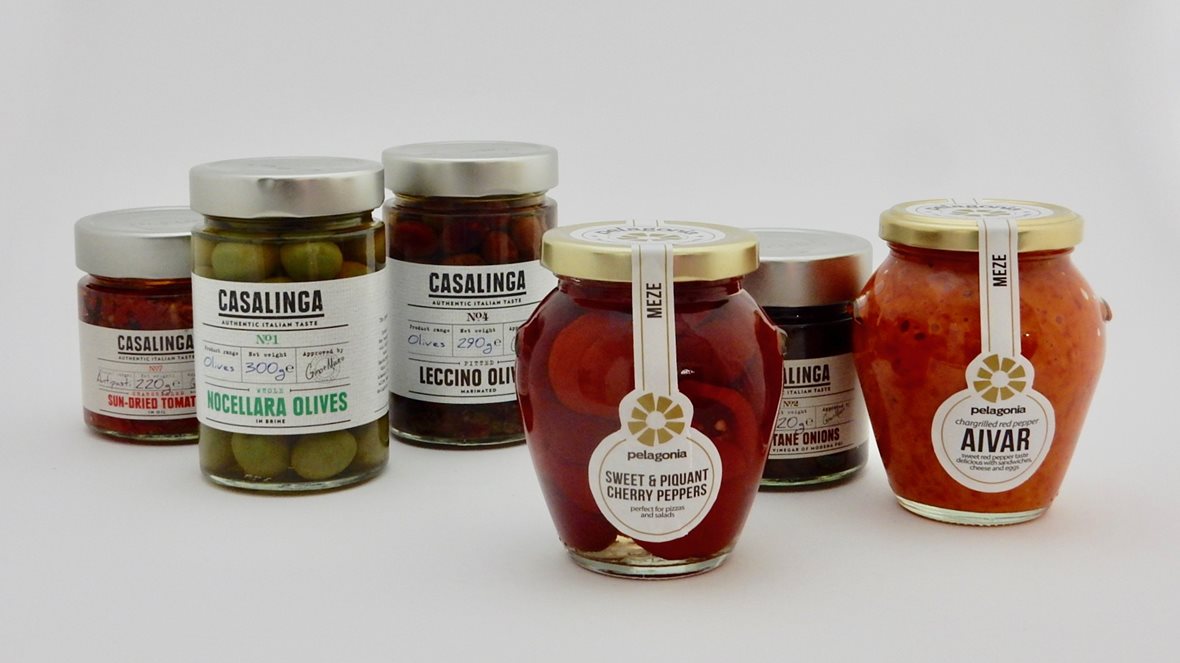 In this country we do love our sharp, sweet preserves - all those chutneys which combine sugar and vinegar with whatever there's a glut of in the garden, all adding up to our favourite thing to put with cheese.
In pursuit of broadening things out a bit, one place we can look is to the world of antipasti. This is also about preservation - in olive oil or brine - but it's decidedly savoury, and of course we're in the world of sun-ripened mediterranean produce.
Looking into this I've landed on a couple of brands, a group of products that I think will make great additions to a cheeseboard and which, in particular, will complement the beautiful salami made by Will Macken. They're Casalinga, from Italy, and Pelagonia - founded by an English guy, but based on Macedonian produce and recipes.
From Casalinga's range I've picked out two types of olives - green Nocellara ones from around Castelvetrano in Sicily (went to Sicily last November - loved it!) and the smaller darker Leccino olives from Abruzzo. A couple of other things I fancied were Borettane Onions - in balsamic vinegar from Modena - and a jar of Sun-Dried Tomatoes, so they're here too.
Pelagonia do something called Aivar which I must say I'd never heard of, but ... could it be the new hummous? Maybe! It's a Macedonian staple, a sort of dip or spread made from roasted red peppers and is rather good with a tangy cheese. Try it! So, anyway, a tick went against that, and also their jar of Whole Cherrry Peppers, which are just beautiful.
And ...
... four new types of biscuits. Two new flavours of Stag's gorgeous water biscuits - a spicy 'Cajun' and Sesame Seed, plus two colourful varieties of wheat biscuits by Fudges, from Dorset: Seeded Beetroot and Charcoal Hearts.