New Beers On The Block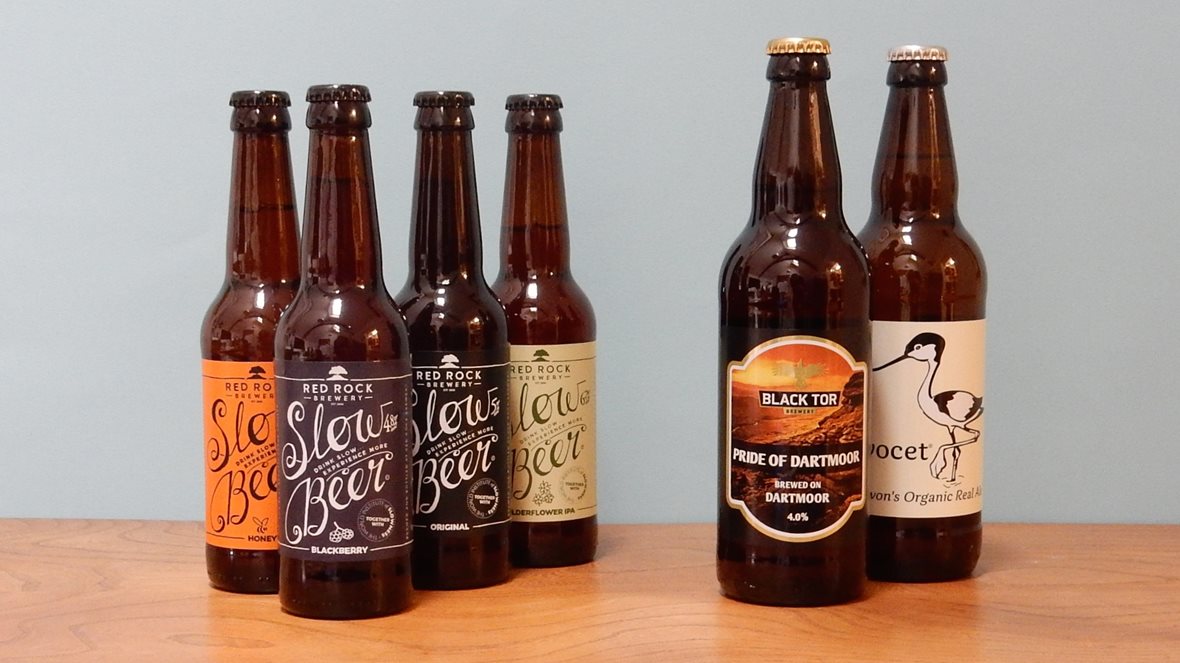 We're just in the process of revising the beers and ciders we offer, and going in a slightly more Devon-focused direction. We just thought it would be nice to reflect a little more closely some of the great small breweries and cider houses in our home county.
So to kick off, we have the four Slow Beers made by Red Rock Brewery. This tiny outfit is based in Bishopsteignton, perched up in the hills above the Teign estuary. They were started by father-and-son John and Lewis Parkes in 2006 - the same year we got going! I think John is less involved now but daughter Hollie has joined. The quartet of Slow Beers are inspired by what grows in and around the brewery: so, they're wheat beers, three of them flavoured with very local ingredients - elderflower, honey and blackberries.
Black Tor Brewery is even closer to us, at Christow in the Teign Valley. They're right on the eastern edge of the Dartmoor National Park so can justify calling one of their core beers Pride Of Dartmoor. A refreshing, easy drinking amber ale, it has with biscuit and caramel notes marrying with a sweet floral finish.
Barnaby's Brewhouse is based on the Riverford dairy farm in South Devon. The team are devoted to producing outstanding European-style craft beers as sustainably as possible. They use organic malt and hops sourced in the UK, and water from a natural spring in the middle of organic farmland. We're stocking their German-style Red Helles lager.
Finally, there's Avocet, which makers Exeter Brewery are proud to say was the first organic real ale made in Devon. Here's an unsual detail: they export this beer to France by sail! And no, I'm not joking:
"Our first shipment left Brixham harbour in October 2009 aboard the 150 foot square rigger, the Tres Hombres. Since then there have been other shipments from Brixham, Plymouth and Falmouth. This year we have made four large shipments, and sales continue to grow. Avocet ale is now available in cafes and shops from Brittany to Paris. We have used a number of sailing vessels, the most recent being the Lugger Grayhound, out of Falmouth. This was featured in a recent Sunday Times, following the Grayhound as she picked up a shipment of Avocet from Brixham harbour."
Unfortunately we cannot manage to deliver to you this way ... but don't let that put you off trying some Avocet with your cheese!