Back To School ... Cheese School!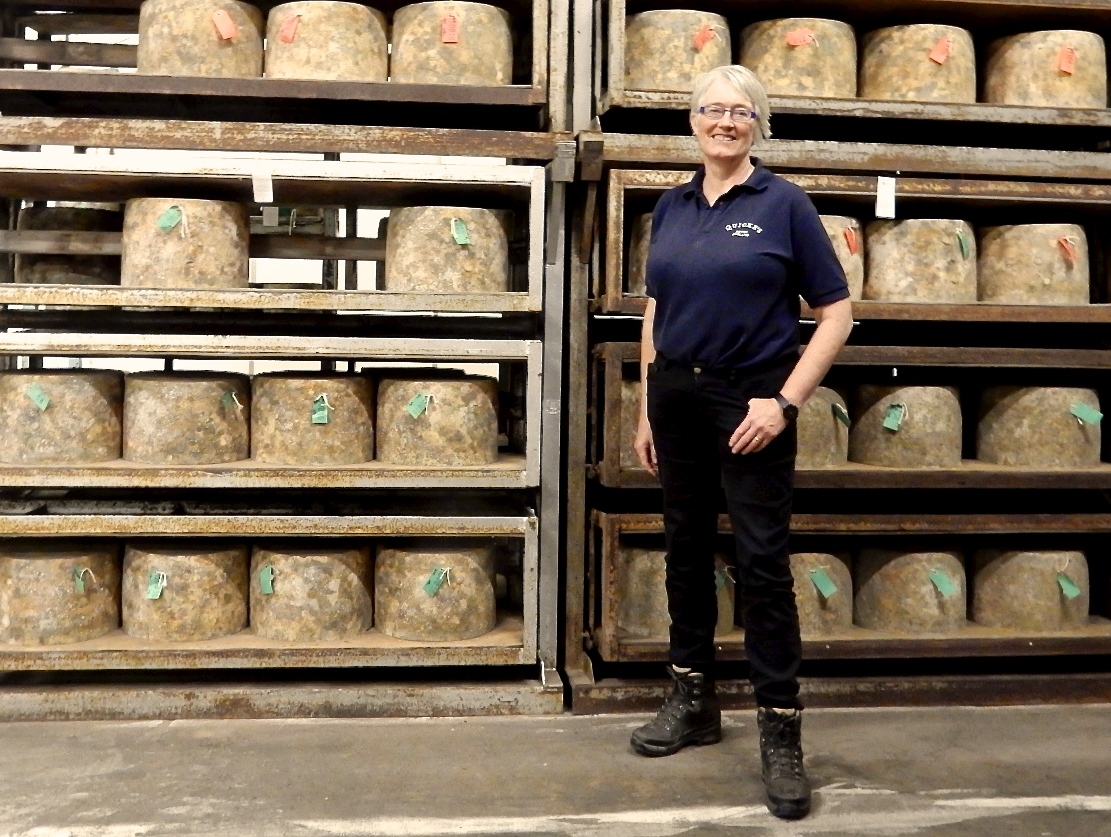 How many of us would choose to go back to school? Maybe not that many. But how about cheese school?
And a cheese school, or more specifically, an Academy Of Cheese, is exactly what has now being created here in the UK. Last week I travelled up to see Mary Quicke (seen above), whose brainchild it is, to talk about the ideas behind it, and to find out just where the project has got to.
Mary is a great character, full of enthusiasm and positivity, someone who loves what she does and who has obviously surrounded herself with a great group of like-minded people. As you can imagine, it's always a pleasure to visit! Her business is Quicke's Traditional, based in Newton St Cyres, just north of Exeter. They're at the bigger end of the hand-made cheese world, and make enough cheese to sell quite a bit abroad. It was in connection with exporting that Mary found herself in the US in 2011, hearing about something called a 'Certified Cheese Professional'. At the time this was a new scheme, aimed at taking people who worked with cheese up to a higher level of skill and knowledge. On a return visit a year later she met some of these trained 'CCPs' again, now out at work behind cheese counters. And, as she describes it, they were "flying". Armed with all their know-how and enthusiasm, they were able to get their customers excited about cheese, and selling up to 30% more as a consequence. It's been transformational, she says: "the way people have got into cheese over there has been amazing ... the CCP has made cheese young and cool."
Back in Devon, Mary found this was an idea she just couldn't let go of. She'd seen what a training scheme like CCP could do and was convinced we needed something similar here, and - to cut a long story short - with the help of some other top cheese people the Academy Of Cheese has now been born.
In some ways it's going to be similar to what the wine industry does - with four levels and a 'Master Of Cheese' qualification at the top, plus an emphasis (un-like the US scheme) on tasting. Tasting cheese, learning to analyse and describe its qualities, will be at the heart of the whole thing, says Mary. I was reminded of a trip up to Quicke's a couple of years ago, where they were sampling the cheddars at a year old and all this incredible language was flying around - 'floral', 'fruity', 'meaty' - as the experts distinguished between one cheese and another. In the Academy, Level 1 students - guided by expert tutors like deli owner Charlie Turnbull, below) - will taste about 30 different cheeses, selected in order to give a really broad introduction to cheese styles and types; the first Level 1 students will be training this year, with the higher levels gradually added in later.
Mary's keen to stress that although most students are likely to be working with cheese professionally, it could equally appeal to cheese enthusiasts, who'd just like to follow their passion ... and learn more.
I was quite inspired! It seems to me it's something I'd benefit from, and perhaps all of us at The Cheese Shed should do the course? We could only gain from it, and although we know a reasonable amount, you can always learn more.
And I have to say, I do like the sound of 'Master Of Cheese'.