Culture! What It Is And How It Works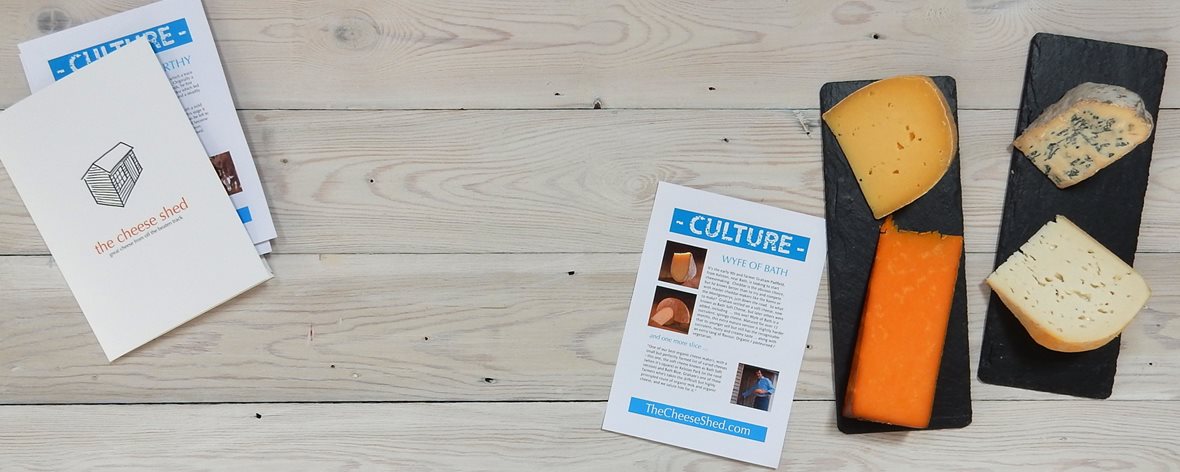 Culture is our pay-as-you-go box scheme. It's just a lovely way to have a beautiful cheese selection turning up every so often ... and because you only pay with each box, it's fairly painless. It makes a great gift, too - in fact that's how lots of our customers use it.
How It Works
Quantity & Frequency
In a Culture box you can ask for 3,4, 5 or 6 pieces of cheese, all about 200g. And you can have a delivery every week, every fortnight or every month. Also, you can tell us to send a set number of boxes, or to deliver 'until further notice'.
What's In The Box?
The cheeses will be carefully chosen by us each time. We'll make sure it's a nice varied selection - and each box will be different from the last - so you'll never get bored. You can tweak the box a bit, too. If you want to avoid blue cheese or goats' cheese ... or you want to specify vegetarian cheese, or pregnancy-friendly cheese, that's all fine. Other 'dos and don'ts'? Just email us after placing your order: we'll do our best to give you the sort of thing you want.
Pay-As-You-Go
With Culture you pay for the first box when you place the order - we'll only take payment for subsequent boxes as they leave us. So you spread the cost! And by the way: the delivery charge is included - so the price you see is all you pay per box.
Varying Your Order, or Cancelling
This is very simple: if at any point you want to change the way your Culture order works, or you'd like to cancel, just get in touch. You can cancel and walk away from the arrangement any time you like.