A Feast Of Great Cheese for Christmas 2017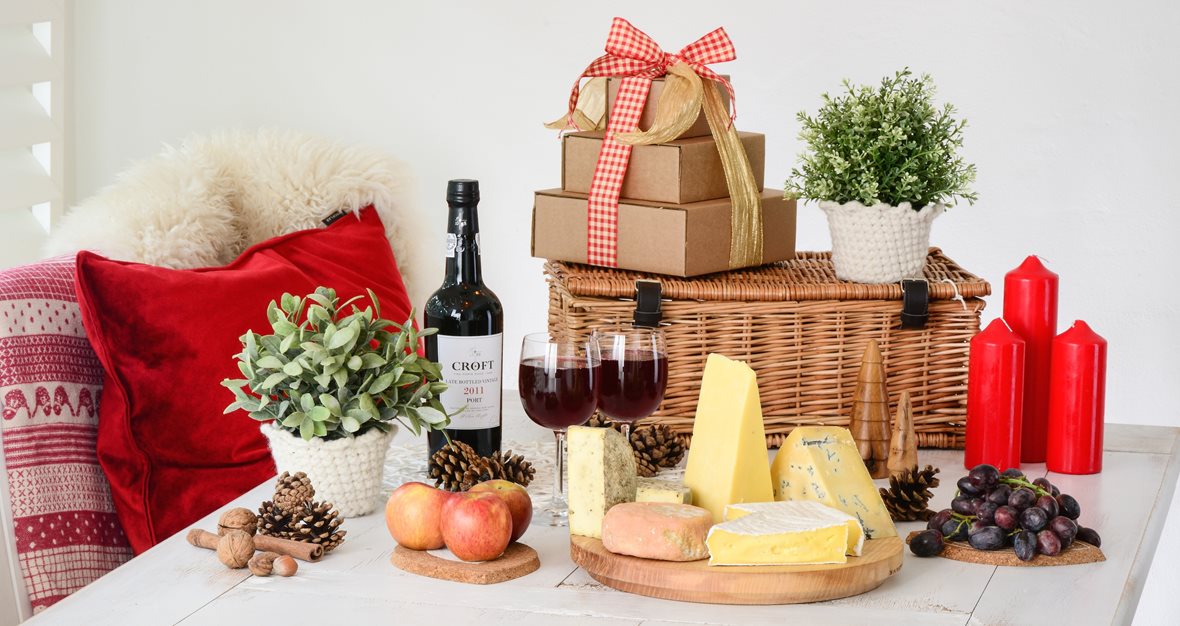 Here we are again ... and if you've been a customer of ours for some time you'll know that at Christmas we always produce some special gift boxes and hampers. They've become a fixture of our lives at this time of year, and I know they are for many of you too. What I want to do here is just introduce this year's boxes and explain the thinking behind them.
Each box is a self-contained cheeseboard: a nicely varied selection of three, four or five cheeses. So you're buying something that's ready to go straight on the table as the cheese course at a Christmas meal. As always, we've chosen lovely Westcountry cheeses - the real thing - there are some rarities and even a couple that are being made especially for us. Your everyday supermarket selection it ain't!
We do something a little bit unusual. We use two different bries to make up these boxes, two different blues and so on. There are a couple of reasons for this. One is caution. If there was a production problem at a dairy we'd asked to supply all our brie for Christmas ... well, I'm sure you can imagine. So using two different makers feels like a good idea. In addition, though, it means that we're supporting more different businesses - spreading our custom around - and we're keen to be helping as many different makers as we can.
So much for the thinking behind the boxes. What's in them?
The Christmas Three
The Christmas Three features the three core cheeses any selection needs to have, i.e a hard cows' milk cheese, a blue and a brie. The hard cheeses are both new for 2017: we'll be using either Ford Farm's Cave-Aged Cheddar or our local beauty, Devon Oke. Then there's a blue cheese - either Devon Blue or Cornish Blue. The two unpasteurised bries are equally superb: Bath Soft Cheese or Sharpham.
The Christmas Four
In this box we take one of each of the cheese types used in the three and add a contrasting cheese. The two candidates are both mellow cows' milk cheeses which bring something quite different to the table: Sharpham Rustic and the brand new Marwenne, lightly flavoured with Cornish Sea Salt and black pepper.
The Christmas Five
Our Five has the three core cheeses from the Three, one of the mellow cheeses from the Four, and adds one more cheese type: a different type of soft cheese. Helford White is a member of the 'washed rind' family, whilst Drogo is a 'fresh' cheese (i.e quickly made, very light) flavoured with ... fennel pollen! Its being specially made for us and as far as we know is unique.
Hampers: Trio, Quartet, Quintet and Ensemble
Right, so these are just a simple expansion of the gift boxes, each one feauturing one of these cheese selections, teamed up with a lovely selection of crackers, chutneys ... and not forgetting some alcoholic beverages. The Christmas Trio Hamper is based around the 'Three' box, the Christmas Quartet is based on the 'Four' ... and so on. Perched up at the top of our range - featuring wine and port - is the Christmas Ensemble.