Christmas Cheese 2023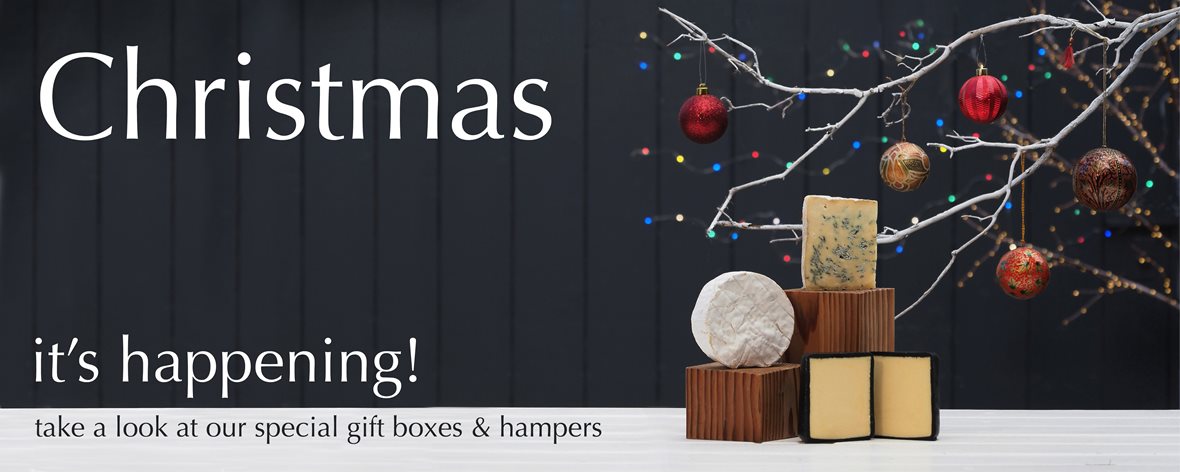 Our Christmas cheese boxes and hampers are all based around the idea of a nicely balanced self-contained cheeseboard. So they all start with a cheddar, a blue and a brie, as in the Christmas Three.
Move up to the Christmas Four and Christmas Five and we'll add one or two additional cheeses in different styles - so that you're guaranteed contrast and interest.
Now, we don't try to hide the fact that the Westcountry is our thing. It's where we live, and it's always seemed to us to make sense to celebrate the cheeses of our region ... to fly the flag for all the great products made down here. And it's really not hard for us to get excited about them.
Not wanting to show favouritism, in this year's Christmas boxes we've managed to get all five Westcountry counties represented (yes! even Dorset!).
From our home county there's Sharpham Rustic, made just a stone's throw from us (slight exaggeration), Helford White and Cornish Blue are from Cornwall, and Cricket St Thomas Camembert is made in Somerset. Then, stretching as far to the east as we can manage (and possibly stretching the definition of 'Westcountry') we have Rosary goats' cheese from Wiltshire. Dorset is represented by that lovely little black-waxed cheddar from Ford Farm, near the iconic Chesil Beach.
So that's it! Five counties of Westcountry cheese in this year's Christmas boxes, all of which are ready to order now, for delivery as late as 21-22 December. Just don't mention Gloucestershire.*
* I said don't mention Gloucestershire.
All right. WHO SAID GLOUCESTERSHIRE?