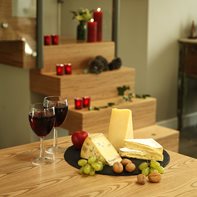 Christmas Three
tell me more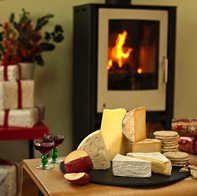 Christmas Four
tell me more
Christmas Five
For these Christmas boxes we've used our knowledge and contacts to put together beautiful selections of artisan cheeses from 'off the beaten track': something delicious and just a little different this Christmas.
We like to give our business to a number of dairies, so there's a few different cheeses we'll be using, but the balance of cheese types will be maintained, producing a satisfying cheeseboard. Your box will have one each of these five different cheese types:
a hard cows' milk cheese
Devon Oke is made by Rachel Stephens in north Devon. This creamy, full-flavoured cheese, based on a C17 recipe, is matured for about six months. The alternative here is Ford Farm Cave-Aged Cheddar, made in Dorset but matured in the Wookey Hole caves of neighbouring Somerset.
a blue
Devon Blue is made very locally to us - a great favourite of ours - whilst the milder Cornish Blue is milder and drier but equally wonderful.
a soft, brie-style cheese
The cheese used here will be Sharpham, from probably the country's most experienced makers of 'brie' style cheese, or Bath Soft Cheese, a lovely organic brie from Graham Padfield, based just outside Bath.
a contrasting firm cows' milk cheese
Sharpham Rustic is a long-time favourite of ours. Made with rich unpasteurised Jersey milk, there is no other cheese like it that we know! Little Wheal is Bude-based Sue Proudfoot and is a 'mini' version of her Cornish Crumbly.
a contrasting soft cheese
Helford White is a gooey, pungent pink-rinded marvel from Cornwall's Lizard peninsula. The other cheese going in some of our 'Five' boxes is Pepperdon. Exclusive to The Cheese Shed, this is a fresh cheese made with unpasterised Jersey milk and rolled in crushed black peppercorns.
The Christmas Five will contain 1.5-1.6kg cheese in total.