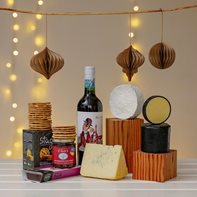 Christmas Trio
The Trio is based on our Christmas Three - Ford Farm Cheddar, Devon Blue and Cricket St Thomas Camembert - but with a few cheese-friendly additions.
Ai Galera Poetico hails from the Tejo region just south of Lisbon: it has an intense ruby colour, clean aromas and a brambly fruit burst of flavour. You'll also get our friend Clare Gault's seasonal special - Cranberry Chutney - and, all the way from the Isle of Lewis, Stag's Water Biscuits in the version with rosemary. Icing on the cake comes in the form of a membrillo-style plum preserve, made in Dorset.
For full details, click the 'about' tab below. About 1kg cheese in total. For more information about Christmas delivery, go here.
We would like to thank Devon Guild of Craftsmen. Do visit their amazing shop and gallery just 100 yards from The Cheese Shed!

Christmas Trio
For these Christmas boxes we've used our knowledge and contacts to put together beautiful selections of artisan cheeses from 'off the beaten track': something delicious and just a little different this Christmas.
Your box will contain:
Ford Farm Cheddar, made in Dorset. It's a punchy black-waxed cheese which comes as a perfect 400g mini truckle.
Devon Blue - made very locally to us and a great favourite!
Cricket St Thomas Camembert, form Somerset, a tried and tested representative of the brie/camembert style.
The Christmas Three will contain about 1kg cheese in total.
plus:
Clare's Cranberry Chutney
Stag's Rosemary Water Biscuits
Global Harvest Plum set fruit preserve
and:
Ai Galera Poetico wine