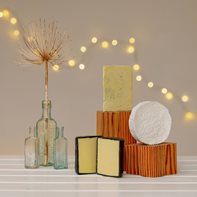 Christmas Three
Designed to provide a Christmas table with the three must-have cheeses!
Any cheeseboad needs a cheddar, a brie/camembert and a blue. For ours we've selected a mini waxed cheddar from Dorset's Ford Farm. This dairy supplies a number of cheeses that our customers love!
Added to that is a delightful little camembert made at Cricket St Thomas in Somerset, and completing the trio is a guaranteed smash hit from our neck of the woods - Devon Blue.
About 1kg cheese in total.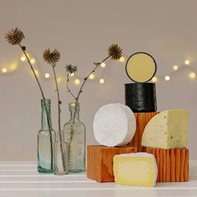 Christmas Four
tell me more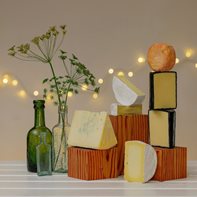 Christmas Five
tell me more
Christmas Three 2022
For these Christmas boxes we've used our knowledge and contacts to put together beautiful selections of artisan cheeses from 'off the beaten track': something delicious and just a little different this Christmas.
Your box will contain:
Ford Farm Cheddar, made in Dorset. It's a punchy black-waxed cheese which comes as a perfect 400g mini truckle.
Devon Blue - made very locally to us and a great favourite!
Cricket St Thomas Camembert from Somerset, a great representative of the brie/camembert style.
The Christmas Three will contain about 1kg cheese in total.