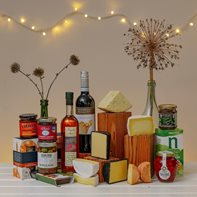 Christmas Ensemble
Top of the tree among our Christmas offerings is this one, based again around our Christmas Five. For the accompaniments ... we've pulled a few more stops out!
Our neighbour Clare Gault makes a beautiful Cranberry Chutney just for Christmas, in addition to which you'll find another Devon creation in Otter Vale's Pear and Ginger Chutney. A welcome reminder of warmer weather comes in the shape of Pelagonia's Sweet Cherry Peppers and Casalinga's mixed Antipasto Olives plus - there's a highly cheese-friendly wild card: Gran Luchito's Chipotle Chilli Honey. Biscuits are a selection from Peter's Yard and Nairn's Organic Oatcakes - while Global Harvest's Dorset-made fig preserve (you can slice it, like membrillo) rounds out the accompaniments.
Wine is represented by an organic Puglia Primitivo,* and just to mix things up a bit there's the Kingston Black Aperitif (a mixture of cider brandy and single-variety apple juice) from master distiller Julian Temperley.
For full details, click the 'about' tab below. 1.3 cheese in total. For more information about Christmas delivery, go here. We would like to thank Devon Guild of Craftsmen. Do visit their amazing shop and gallery just 100 yards from The Cheese Shed!
* Replaces the Montepulciano pictured, and which we had intended to use. Unfortunately this has become unavailable.

Christmas Ensemble
For these Christmas boxes we've used our knowledge and contacts to put together beautiful selections of artisan cheeses from 'off the beaten track': something delicious and just a little different this Christmas.
Your box will contain:
Ford Farm Cheddar, made in Dorset. It's a punchy black-waxed cheese which comes as a perfect 400g mini truckle.
Devon Blue - made very locally to us and a great favourite!
Cricket St Thomas Camembert from Somerset, a tried and tested representative of the brie/camembert style.
Sharpham Rustic - a unique semi-soft cheese made with creamy Jersey milk, also made near us in Devon.
And a choice of soft cheeses, either:
Rosary with Herbs: Melt-in-the-mouth soft goats cheese lightly rolled in herbs or
Helford White: Fruity, colourful 'washed rind' cheese from Cornwall.
The Christmas Ensemble will contain about 1.3kg cheese in total
plus:
Clare's Cranberry Chutney (225g)
Pelagonia Sweet Cherry Peppers
Casalinga Antipasto Olives
Otter Vale Quince Pear & Ginger Chutney
Gran Luchito Chipotle Chilli Honey
Peter's Yard Selection
Nairn's Organic Oatcakes
Global Harvest Fig Preserve
and:
Puglia Primitivo wine (organic)
Kingston Black Apple Aperitif