Tresco
This cake is all about Cornish Smuggler and the striking orangle marbled patterns which are revealed when this cheese is cut. An amazing effect is created by cutting it into wedges and arranging them in a star shape. As a type of cheddar, Smuggler is great to use in a wedding cake; we add two blues, a brie, Smarts Double Gloucester and a Baby Yarg to create a well balanced but spectacular cake for 100.
Feeds: 100. Size: Diameter 33cm, height 39cm
Suitable for vegetarians.
Tresco is supplied as wrapped cheeses, undecorated. To order a Taster Box, go here.
Would You Like To Know More?
For a full description, see the 'about' tab below. And don't forget to take a look at what our customers say.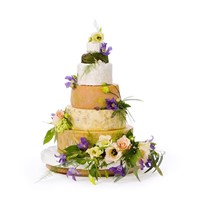 Dartington
tell me more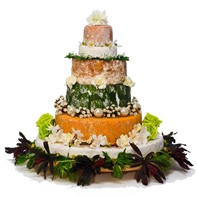 Lamorna
tell me more
Tresco
This cake has a unique feature based on the special quality of Cornish Smuggler. This is a cheddar type cheese but with an orange marbled effect created via the use of annatto - a vegetable dye. You see this when the cheese is cut. We take 2 whole Cornish Smugglers and cut them into 6 quarters and one half piece. The quarters are used to make a star shape with the points facing outwards. This sits on the brie and under the Devon Blue. The remaining half cheese can either be fitted inside the star or left out of the cake and kept as extra cheese.
Tresco has well-balanced quantities of the three essential cheese types, cheddar, blue & brie. There are two blues, Devon Blue and Dorset Blue Vinny, and the brie is Cornish Brie. Variety is created by the addition of two very popular hard cheeses, Smart's Double Gloucester and a nettle-covered Baby Yarg.
All in all, this cake creates a spectacular and unusual effect whilst providing very mainstream and popular cheese types.