Helford
This was added when we spotted a gap for cakes feeding 80 or so. It's been very popular, which may owe something to its very nice proportions, range of colours and textures (especially in the smoked cheddar version seen here), plus of course a great set of cheeses. For your base layer you can choose either Quicke's Mature Cheddar or Quicke's Oak Smoked. Your blue needs are met by the delightfully strong and creamy Colston Bassett Stilton, and non-cow cheeses are provided in the form of Katherine and White Nancy, two delightfully different goat's cheeses from Somerset masters White Lake, and Fosse Way Fleece, a ewe's milk cheddar made by Somerset Cheese Co.
Around 7.7kg of cheese - feeds 80. Supplied as wrapped cheeses, undecorated.
For more details click the 'about' tab, below. To order a taster box, go here.
Size: Diameter 25cm, height 33.5cm.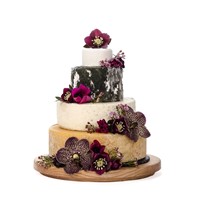 Zennor
tell me more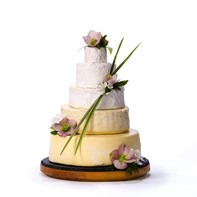 Smalldon
tell me more
Helford
Noticing that we didn't have much that would suit a gathering of 80 or so, I felt I ought to fill the gap. Helford - which is nudging 8kg - is an attempt to do that. I especially like the proportions of this one, and the colours and textures of the cheeses.
This time the base is either Quicke's Mature or Quicke's Oak Smoked Cheddar. The smoking process gives a beautiful rich red-brown colour to the rind. Feeling that it's nice to balance the familar and the unfamilar, the next cheese up is the ewe's milk Fosse Way Fleece. There has to be a blue somewhere, and this time we've used half a baby Stilton:
Colston Bassett, the best, in our opinion. On top of that are two small, contrasting, goat's cheeses - the creamy White Nancy and (on the top) the firm Katherine.
plain cheddar version
If you'd prefer unsmoked cheddar, just choose the 'plain cheddar' option from the list above. This will give you Quicke's Mature Cheddar - you'll lose the smoking, a bit of the rich colour... and also a bit of the price!
Decorated by Kate, photographed by Bim. Kate's work is gorgeous, but I'm afraid we don't send the decorations (they're just too perishable) - just the cheese!