Smalldon
Smalldon is the baby brother of our other white-themed cake, Haldon. Equally lovely - there's just something great about a group of all white cheeses, and you don't have lose out on variety either - this one features soft, hard and blue cheeses.
Feeds: 70ish. Size: Diameter 25cm, height 35cm
Supplied as wrapped cheeses, undecorated. To order a Taster Box, go here.
Would You Like To Know More?
For a full description see the 'about' tab below. And don't forget to take a look at what our customers say.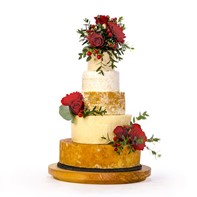 Helford
tell me more
Smalldon
Smalldon is the baby brother of our other white-themed cake, Haldon. At just over 7kg, this might suit around 70 people (although judging exactly how much cheese to allow isn't very scientific!). Here's how it stacks up - and note that on two of the layers you have a choice:
Top Layer: Capricorn.
Second Layer: White Nancy - also soft goat. Reliably gorgeous.
Third Layer: This is a brie - the organic Kelston Park - but for a little bit more we could give you Sharpham's Elmhirst, which is similar but cream-enriched. Are you ready for that? I think you are.
Fourth Layer: A magnificent blue cheese here: you cannot go wrong with Beenleigh Blue.
Base Layer: Somerset classic Duckett's Caerphilly or a Wensleydale from Hawes - it's 4kg of cheese either way.
make your choice!
Decide whether you want Kelston Park or Elmhirst for the middle layer, and Wensleydale or Duckett's Caerphilly as the base, then choose from the drop-down menu. The overall colour will be the same gorgeous white / off-white whichever way you go.