Smalldon
Smalldon is the baby sister of our other white-themed cake, Haldon. Equally lovely - there's just something great about a group of all white cheeses, and you don't have lose out on variety either - this one features soft - Capricorn, Elmhirst and White Nancy, hard - Duckett's Caerphilly or Hawes Wensleydale and blue - Beenleigh or Harbourne.
Around 7kg of cheese - feeds 70. Supplied as wrapped cheeses, undecorated.
For more details click the 'about' tab, below. To order a taster box, go here.
Size: Diameter 25cm, height 35cm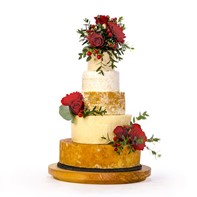 Helford
tell me more
Smalldon
Smalldon is the baby sister of our other white-themed cake, Haldon. At just over 7kg, this might suit around 70 people (although judging exactly how much cheese to allow isn't very scientific!). Here's how it stacks up - and note that on one of the layers you have a choice:
Top Layer: Capricorn - a tiny soft goat's cheese.
Second Layer: White Nancy - also soft goat. Reliably gorgeous.
Third Layer: This is a brie, but it's Sharpham's Elmhirst -
cream-enriched for extra luxury!
Fourth Layer: A magnificent blue cheese here: you cannot go wrong with Beenleigh Blue.
Base Layer: Somerset classic Duckett's Caerphilly or a Wensleydale from Hawes - it's 4kg of cheese either way.
make your choice!
Decide whether you want Wensleydale or Duckett's Caerphilly as the base, then choose from the drop-down menu. The overall colour will be the same gorgeous white/off-white whichever way you go.