Zennor
Zennor is a cake featuring some great cheeses, including Smart's Double Gloucester and a baby Cornish Yarg with its stunning coat of nettles, and topped with the lovely goat's milk brie Nanny Florrie. For your blue layer, you can choose between Beenleigh or Devon Blue. For the Big version, you have the option of adding a 6.5kg wheel of Westcombe Cheddar - this will double the amount of people the cake will feed.

Around 6kg of cheese, or 12.5kg (big version) - feeds 60, or 120 (big version). Supplied as wrapped cheeses, undecorated.
For more details click the 'about' tab, below. To order a taster box, go here.
Size: Diameter 25cm, height 25.5cm (regular version) OR Diameter 33cm, height 31.5cm (big version)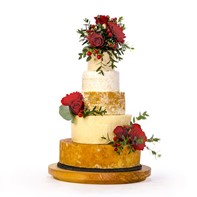 Helford
tell me more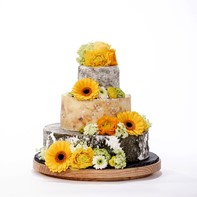 Lyme Bay
tell me more
Zennor
Zennor is a smallish cake but - as we hope you can see - it can still look really impressive! We've put together just over 6kg of cheese to suit a gathering of around 60 (but see 'Big Zennor', below, if you're feeding the 5000).
The base is Diana Smart's gorgeous Double Gloucester: great looking, great tasting, this true artisan cheese is a world away from the bland cheeses you may have tasted under this name! Beenleigh Blue is a sensational ewe's milk blue from Robin Congdon, creamy, sweet with a tangy blue edge if you prefer
cow's milk cheeses, you can choose to have Devon Blue here instead.
A baby nettle-covered Yarg comes next, and a little Nanny Florrie, a goat's brie, finishes it off.
Don't forget that we only supply the cheese… but perhaps this photo will give you some ideas?
Big Zennor
For a more sizeable event, we'll add 1/4 of a truckle (about 6.5kg) of ultra-traditional, ultra-tasty Westcombe Cheddar. This would now form the base of the cake which, with a total weight of 12.5kg, would suit 120-130.