Zennor
Zennor is a smallish cake but featuring some great cheeses including Diana Smart's Double Gloucester and a 'baby' version of Cornish Yarg with its stunning coat of nettles.

Feeds: around 60, or 120 (Big Zennor version). Size: Diameter 25cm, height 25.5cm (standard version)
Zennor is supplied as wrapped cheeses, undecorated. To order a Taster Box, go here.
Would You Like To Know More?
For a full description - including details of 'Big Zennor, see the 'about' tab below. And don't forget to take a look at what our customers say.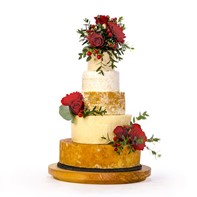 Helford
tell me more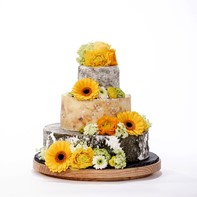 Lyme Bay
tell me more
Zennor
Zennor is a smallish cake but – as we hope you can see – it can still look really impressive! We've put together just over 6 kilos of cheese to suit a gathering of around 60 (but see 'Big Zennor', below, if you're feeding the 5000).
The base is Diana Smart's gorgeous Double Gloucester: great looking, great tasting, this true artisan cheese is a world away from the bland cheeses you may have tasted under this name! Beenleigh Blue is a sensational ewes' milk blue from Robin Congdon, creamy, sweet with a tangy blue 'edge'.
A baby nettle-covered Yarg comes next, and a tiny Vulscombe goats' cheese completes the cake.
No feathers on this one (by a superhuman effort, Annie restrained herself!) but a blue/purple theme. Don't forget that we only supply the cheese … but perhaps this will give you some ideas?
Big Zennor
For a more sizeable event, we'll add 1/4 of a truckle (about 6.5kg) of ultra-traditional, ultra-tasty Westcombe Cheddar. This would now form the base of the cake which, with a total weight of 12.5kg, would suit 120-130.