Haldon
This was one of first colour-themed cakes. Going all-white is an obvious choice for a wedding, and our solution gives a beautiful balanced shape and a great range of cheeses.
Feeds: 100-110. Size: Diameter 33cm, height 39cm.
Suitable for vegetarians.
Haldon is supplied as wrapped cheeses, undecorated. To order a Taster Box, go here.
Would You Like To Know More?
For a full description, including details of Haldon versions, see the 'about' tab below. And don't forget to read what our customers say.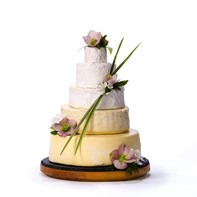 Smalldon
tell me more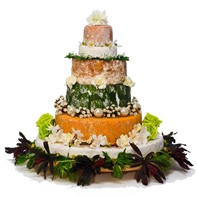 Lamorna
tell me more
Haldon
Named after the white Haldon Belvedere tower, just east from us, this beautiful white cake includes some of our favourite cheeses. Cricket St Thomas Brie forms the base (we'll choose one that's reasonably firm).
Duckett's Caerphilly, made in Somerset, is a classic territorial made by the Duckett family in Somerset for generations and on top of that sits Robin Congdon's beautiful Harbourne Blue. Note - this is his goat's milk blue: we can also use Beenleigh, which is ewe's milk - just choose the appropriate option below. Here's what we say: they're
both marvellous.
Three wonderfully creamy cheeses top it off, Elmhirst, a cream-enriched (yep! total luxury) soft cheese, and three more soft goat's and ewe's milk cheeses, White Nancy, Little She and Capricorn.
With about 10.6kg of cheese, this would suit 100-110 or thereabouts. Remember you'll need a creative person to decorate the cake as we only supply the cheese! Our creative person is Annie, who's raided her garden to create a pink and green theme here.
If you're looking for a smaller white cake, see our Smalldon.