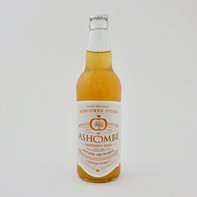 Ashcombe Gratton's Gold
The Ashcombe Estate is just inland of Dawlish in Devon. There's a long tradition of making cider there and the orchards and cider works were very busy from the nineteenth century but finished around 1950.
Cider-making at Ashcombe was reborn in 2012. Gratton's Gold is named afer Peter Gratton who looked after the orchards for 59 years. It's a slightly sparking organic cider made from apples and nothing else! With an aloohol level on the low side, this will suit some people.
3.5%