Cosmopolitan
Notify me when this is back in stock
A box to celebrate the influence of European cheese styles on Westcountry makers. Cornish Gouda is made by a Dutch family who brought their traditions with them when they moved here, but the others are all about makers looking across the channel for ideas. So, Kern uses alpine starter cultures to produce a cheese comparable with Comté, whilst the crumbly ewe's milk Wootton White (much favoured in the recipe boxes of Riverford Farm) is like a more subtle and less salty feta.
Ticklemore Dairy borrowed the style of Roquefort for their first cheese, but then side-stepped to use cow's milk for Devon Blue, and Merry Wyfe is one of many cheeses which use the washed rind technique - almost unknown here not so long ago (and in a local twist, their rind is washed with cider).
Make this box even more fabulous with one of two soft-cheese options: ash-dusted goat's milk pyramid Tor, or the Camembert/Vacherin inspired Winslade.
Contains about 1kg of cheese, or 1.2kg with Tor or Winslade.
NB It's just the cheese! Beer, salami and olives not included...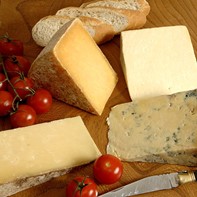 Westcountry Traditional
tell me more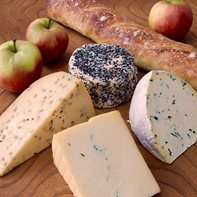 An Extra Something
tell me more