Lynton
Along with Dulverton, this is one of our larger off-the-peg cakes. In it, you'll find great examples of traditional cheeses - Smart's Double Gloucester and Westcombe Cheddar - alongside some truly wonderful new cheeses from the Westcountry's most talented makers: things like Little Wheal, Katherine and Fosseway Fleece.
Feeds: 160. Size: Diameter 33cm, height 50cm
Like all our cakes, Lynton is supplied as wrapped cheeses, undecorated. To order a Taster Box, go here.
Would You Like To Know More?
For a full description see the 'about' tab below. And don't forget to take a look at what our customers say.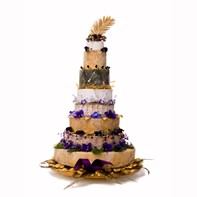 Dulverton
tell me more
Lynton
The base here is Westcombe Cheddar - one of the three great, and really traditional, examples of this cheese from (where else?) Somerset. Then comes Cornish Blue, Supreme Champion at the World Cheese Awards in 2010, and only a few points away from taking the same title the following year.
At the next layer there's a choice. Devon Smoake is a gorgeous cheese from North Devon's Rachel Stephens. One of the best smoked cheeses we've ever come across, the sweetness in this cheese will make a lovely contrast with the cheddar. We can also supply the plain version of this cheese, Devon Oke: just select the 'Oke' or 'Smoake' version from the drop-down menu.
Fosseway Fleece is a cheese we've recommended to countless people over the years and this firm ewes' milk
cheese always seems to be a success; on top of that is a classic Double Gloucester from legendary maker Diana Smart.
A baby version of the spectacular nettle-clad Cornish Yarg comes next, and then finally we reach the top two. Little Wheal, made near Bude, is described as 'like a creamy Lancashire with bite', and Katherine is a tiny goats' cheese which has had its rind washed in Somerset cider brandy!
Oke or Smoake?
At the 3rd layer up you have a choice. Either Devon Oke, a sweet, firm, nutty cheese from Devon, or Devon Smoake - the same cheese but smoked over oak chips to delightful effect.