Les Vignes du Prince Cotes du Rhone (37.5cl)
Created in 1924, the Cellier des Princes in the only co-operative cellar in the Chateauneuf du Pape area. The wines always reflect their origin: deepness of pebbles for strengh, dryness and hot sandy soils for power and spice, chalky sandstones for structure, clay-siliceous soil for richness and roundess.
This is a great value Cotes du Rhone which has spicy berried fruit woven with fresh plum flavours.
France, 13%
Note: this is a half-bottle, 37.5cl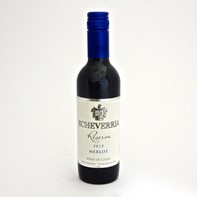 Echeverria Merlot Reserva (37.5cl)
tell me more