Echeverria Merlot Reserva (37.5cl)
Roberto Echeverría Jr has been the Chief Winemaker at Chile's Viña Echeverría since 2001. Inspired by his French heritage, Roberto's signature style produces wines with a combination of Old World elegance and New World energy.
The wine is garnet red with purple hues. On the nose, intense aromas of strawberries and blackberries combine nicely with notes of black pepper and dried fruits. A juicy and silky mouthful that persists to a fruity finish.
Chile, 13.5%
Note: this is a half-bottle, 37.5cl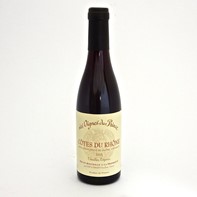 Les Vignes du Prince Cotes du Rhone (37.5cl)
tell me more