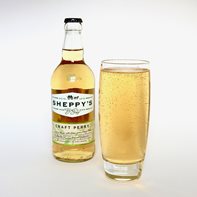 Sheppy's Craft Perry
Made from five diffrent varieties of home grown perry pears, including Blakeney Red, Hendre Huffcap and Red Pear. Aged for at least six months, it has a bright refreshing taste and a clean pear aroma.
Every drop of Sheppy's is expertly crafted in Somerset by David Sheppy, the sixth-generation Master Of Cider from one of the oldest and most distinguised cider-making families in the world.
500ml, 7.4%