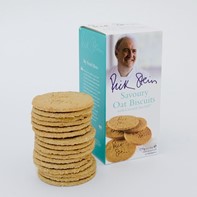 Rick Stein Oat Biscuits with Cornish Sea Salt
Says Rick: "Furniss is a great old Cornish company and it' a pleasure to be working with them to create these lovely biscuits. Perfect with a Cornish Blue, Yarg ... they've got a delightful savoury crunchiness and a great taste of baked oats".
These particular oat biscuiots are made with Cornish Sea Salt.
170g