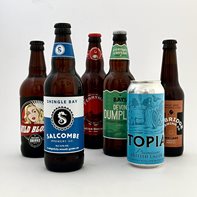 The Devon Beer Discovery Box
Just six beers from Devon!
We will select six nicely contrasting beers from Devon breweries. The particular beers chosen may vary according to what we have in stock, buta are likely to include at least some of those pictured.
Mostly 50cl but with possibly with some 44/33cl ones.