Cheese Party 20
Surely any gathering would be improved by adding some delicious cheese? That's how we feel, anyway! And it's why we've put together these gorgeous selections of cheese and accompaniments for meetings of 10, 15, 20 or 25 people.
Our 'classic' party boxes are built around the core three cheeses that any cheeseboard must have - a cheddar, a blue and a brie. In our case, of course, these are really good versions sourced from great Westcountry makers. With about 2.25g cheese plus a selection of crackers and preserves to match, we've put this together with about 15-20 people in mind.
Add charcuterie, olives or antipasti according to taste! For full details see the 'about' tab below.
Feeds 15-20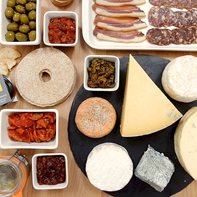 Cheese Spread 20
tell me more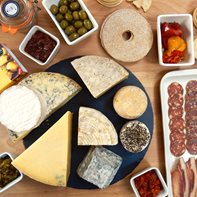 Cheese Spread 25
tell me more
Cheese Party 20
Contains about 2.25kg cheese:
3 x Old Burford Brie
750g Devon Blue
750g Ford Farm Cave-Aged Cheddar
Plus: crackers. Stag's Water Biscuits were a revelation when we first encoutered them, and we'll be sending one of several flavoured versions. Plain Bath Olivers are an English classic, and Peter's Yard's crispbread adds a Scandinavian touch. Rick Stein's oat biscuits complete a varied line-up
1 x Stag's Water Biscuits 150g
1 x Bath Oliver biscuits
1 x Peter's Yard Crispbreads 220g
1 x Rick Stein Savoury Oat Biscuits with Cornish Sea Salt 170g
We use two excellent makers of preserves, pickles and chutneys with whom we have worked closely over a number of years - Clare's Preserves and Hillside Speciality Foods. We'll ensure you receive two nicely contrasting ones from their respective ranges, along with a 'set fruit preserve', also from Hillside.
1 x Clare's Preserves Chutney 200g
1 x Hillside Chutney 230g
1 x Hillside 'Fruits For Cheese' 70g