the fondue experience
Notify me when this is back in stock
A complete fondue kit in a box, The Fondue Experience is a great way to introduce yourself or a friend to the joys of this classic Swiss comfort food. Includes a ceramic fondue set and all the ingredients you need to make enough beautiful fondue for 2, 3, maybe even 4 people. You'd expect us to have our own Westcountry angle, so this version includes two brilliant regional cheeses - Cornish Kern* and Ogleshield - alongside Pinot Grigio white wine and Apple Eau de Vie (replacing the original kirsch)! And of course the recipe is included.
It's fun way to try out fondue for the first time and an ideal gift! For full details see the 'about' tab below. Note that the fondue set is for serving, and for keeping the fondue warm - you'll need to cook your fondue in a double saucepan or in a bowl over a saucepan ... but see the 'about tab' for more details.
*Note! When not available Kern will be replaced by Haytor.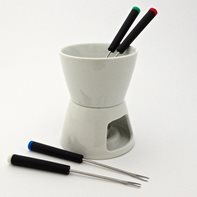 fondue set
tell me more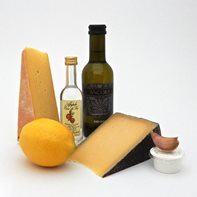 fondue à la Cheese Shed
tell me more
the fondue experience
Includes fondue set, ingredients & recipe
Fondue set:
Mini ceramic fondue set, 15cm high, 11cm diameter.
Four forks for serving.
Tea light.
Ingedients:
250g Cornish Kern cheese.
250g Ogleshield cheese.
187ml Pinot Grigio white wine, 12%.
5cl Apple Eau de Vie (by Somerset Cider Brandy), 40%.
1 garlic clove.
1 lemon.
1 tbs cornflour.
Other things you will need:
For cooking: a double saucepan, or a bowl you can place over a saucepan of boiling water.
For dipping: crusty bread, or fruit (apple, grapes) or blanched veg (carrot, broccoli).
Salt & pepper.