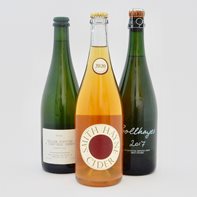 The Big Cider Discovery Box
One for the cider connoisseur, this box contains three 75cl bottles, each from one of the smaller Westcountry cider makers. These are people with very particular concerns. They're not necessarily tryting to make completely conistent ciders (where it always tastes exacyl the same) more interested in doing the very best with each crop as it omes through, and if the results are unique, so be it. The 2019 vintage may have a different character to the 2020 one, and so on.
They tend to be very interested in conserving old varieties of cider apple tree, and favour a 'low intervention' approach to tending the orchards.
The Big Cider Discovery Box contains two ciders and one perry:
Bollhayes: a sparking 'champagne method' cider.
Gould's Perry: Cornwall's Jonathan Gould is constantly making one-off batches of differnt ciders and perries. We'll send one of the latter - whatever we have in stock at the time!
Smith Hayne Late Season Blend: a rich autumnal juicy blend of late ripening apples