Two Sheep & A Goat (Or Vice Versa)
The starting point here was Rachel - the wonderful Somerset goat's cheese which won 'Best Goat's Cheese' at the 2019 British Cheese Awards. Around that we add one of two beautiful blues and the gorgeous ewe's milk Dumpling (or, if we've run out of that, Little Ryding - from the same dairy).
Our trio ticks the hard, soft and blue cheese boxes; Rick Stein's thyme-flavoured oat biscuits and set fruit preserve from Global Harvest are the delicious accompaniments.
With just 700g of cheese this would suit one or two people. Choose from either Beenleigh Blue (sheep) or Harbourne Blue (goat).
**Note: The image shown contains Hillside Fruits for Cheese which is no longer in production. This box will contain a set fruit preserve from Global Harvest.**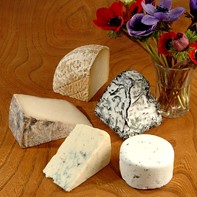 The Sheep & The Goats
tell me more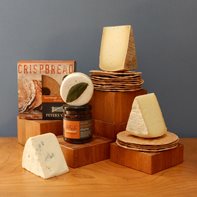 A Modest Sheep & Goat Hamper
tell me more