The Port And Stilton Box
One special guest is always welcome at a cosy evening in for two... and that's England's classic blue cheese, Stilton. In this box you'll receive a nice chunky wedge of Colston Bassett Stilton, a mixed selection box of Stag's savoury biscuits and a jar of our favourite Pelagonia Wild Green Fig Jam.
That's not quite all, of course: you need a little something to help wash that down. Choose from either a half bottle of Fonseca Bin 27 Port, a full bottle of Fonseca LBV Port or our favourite - and possibly the slightly more adventurous choice - Somerset Pomona.
Contains about 500g of pasteurised, vegetarian cheese.
Fonseca Bin 27 Port: 37.5cl
Somerset Pomona: 50cl
Croft LBV Port: 75cl
**Note: The image shown contains Hillside Caramelised Fig Chutney which is no longer in production. This box will contain Pelagonia Wild Green Fig Jam.**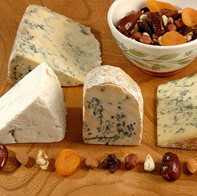 Nothin' But The Blues
tell me more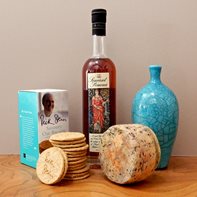 Blue Moon
tell me more