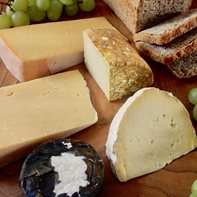 Some Like It Raw
Many cheese makers would argue that unpasteurised cheeses have a depth of flavour that pasteurised ones simply cannot match. Here's your chance to put that to the test with five superb raw milk cheeses.
Sheep Rustler is made by the amazing White Lake Cheese near Shepton Mallet - one of the best ewe's milk cheeses we have ever tasted! Proper traditional cheddar comes from Keen's and the soft cheese is the unique Eve: a gooey goat's cheese washed in cider brandy and wrapped in a vine leaf.
Ogleshield is springy and fruity - it nods towards alpine styles - and Sharpham Rustic, from our home county of Devon, completes the box.
About 1.25kg cheese in all: wax paper wrapped and with background notes on all the cheeses.
posh box option
Tick the box above and we'll pack your cheese in a smart Posh Box. Priced at £8.99, this is a lovely way to give your gift a bit more impact. Substantially made, they feature a magnetic 'catch' and matching ribbon. There are three different sizes - we'll choose the one that seems to be the best fit for the items in the order.