Ding-Dong Celebration Cake
Ding-dong. Noun (dated). A riotous party.
---
A slightly larger celebration cake, this one has Cornish Blue as the base - one of the Cheese Shed team's very favourite blues. Next up is Ford Farm's Cave-Aged Cheddar, then Pepperdon, a fresh cheese made exclusively for us and rolled in crushed black peppercorns.
Topping the whole thing off is super-soft Rosary with Garlic & Parsley.
Around 1.7kg | Feeds 15-20 people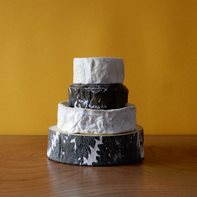 Wingding Celebration Cake
tell me more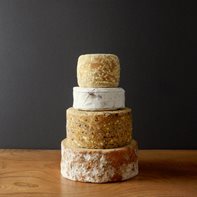 Frawzy Celebration Cake
tell me more