3 new cheese gift boxes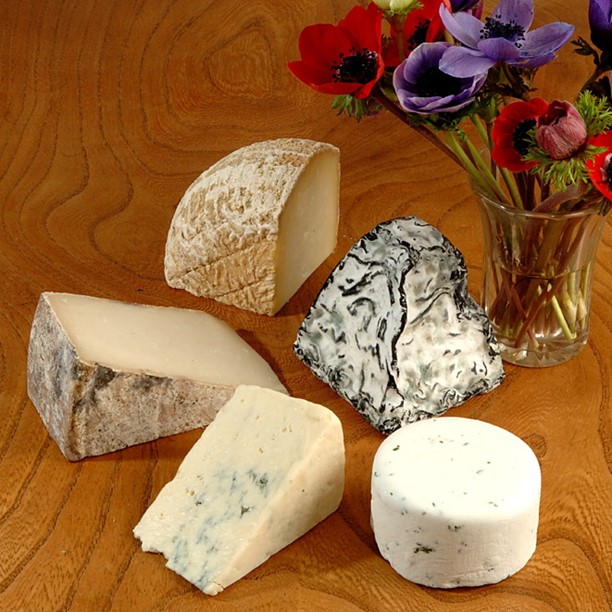 The Big Softy is the ultimate cheese selection for those who insist on the soft stuff. Helford White is a pink-rinded, gooey marvel hailing from The Lizard and packing a bit of a whiff. Black-Eyed Susan is an organic brie lightly studded with black peppercorns; still in the flavoured cheese world, we'll also include a Vulscombe flavoured with garlic & herbs. Finally, Pete Humphries' Tor is a dramatic pyramid-shaped, ash-covered goats cheese. To sum up: soft they may be, but boring they are not. That's the four cheese version - or we can add one more, Sharpham's mega-luxurious Elmhirst.
The cheese world is about innovation as well as tradition; so alongside a great cheddar or caerphilly we can find equally wonderful cheeses which have shallower roots. Here are four which deserve to be considered as Modern Classics.

Cornish Yarg only appeared in Cornwall in the 1970s, but is now celebrated not just for it's stunning coat of nettles but also for it's full, mild, smooth flavour. Tornegus was dreamed up by pioneering British 'affineur' James Aldridge at a time when few cheeses on these shores used the 'washed rind' method, and likewise Robin Congdon's Beenleigh was - when first produced - probably the only ewes' milk blue in the country. Finally, Pete Humphries sweet, crumbly White Nancy is the work of a contemporary cheesemaker at the height of his powers.
A selection box with no cows milk allowed: four or five cheeses from The Sheep and The Goats. Millstone is a close contender for my favourite ewes' milk cheese - just a fabulous nutty taste and lovely dry texture (a beautiful looking rind, too), while Beenleigh Blue is the Devon-made sheeps' milk blue that chefs rave about. On the goat side we have Pennard Vale, winner of Best Goats' Cheese at the 2010 British Cheese Awards, and the beautifully subtle, soft Vulscombe, made by Graham & Jo Townsend. The five-cheese box adds something different again - the stunning Tor from Whitelake Cheese in Somerset. Outside - pyramid shape, grey-and-white colouring from it's dusting of wood ash; inside - soft, creamy heaven.