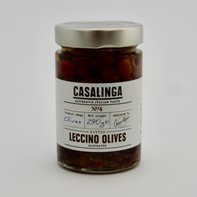 Leccino of Abruzzo Olives
Leccino Olives are the most widely cultivated in Italy, thanks to their delicate and natural flavour. They are believed to originate from central Italy, with evidence that goes back to the Middle Ages. Today they are among the most cultivated olives in the Italian peninsula.
Ours are from the Abruzzo region, which stretches from the Appenines east of Rome across to the Adriatic.
Pitted, 290g