Happy Christmas ...
win a Christmas hamper
Take five superb Westcountry artisan cheeses. Add three jars of pickles and chutneys, three packets of very special biscuits - all different - and some unique mulled spiced apple 'membrillo'. Oh, and let's not forget the bottle of Krohn LBV Port! Then: pack it all up smartly in a wicker hamper with black leather hinges. This is our Christmas Five Hamper, and we have one to give away. If you'd like to be in with a chance of winning ... read more »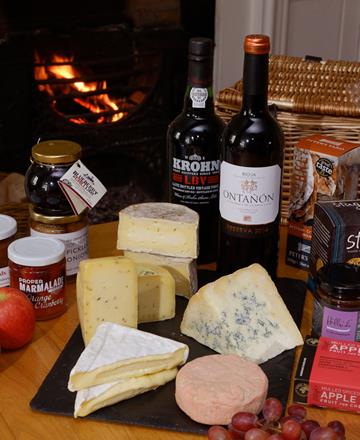 ... in The Cheese Shed!
Christmas Cheese from The Shed
Cheese gift boxes and cheese hampers are very much part of what we do: at this time year you'll also find our special range of Christmas cheese selections. Of course our 100 Westcountry artisan cheeses and cheese wedding cakes are here as ever, not to mention wine, beer, cider, perry, chutney, biscuits ...