St Agnes
One of our smaller cakes, for a modest-sized gathering of 40-50, St Agnes brings together the classic brie, blue & cheddar trio in a way which we think really works. This nicely-shaped five-cheese cake is topped off with a beautifully subtle soft goats' cheese from Vulscombe (black pepper & garlic version). For extra height there's a version which adds a Dorstone goats' cheese to sit on top.
Feeds: 40-50. Size: Diameter 22cm, height 28cm (or 34cm with Dorstone)
St Agnes is supplied as wrapped cheeses, undecorated. To order a Taster Box, go here.
Would You Like To Know More?
For a full description, see the 'about' tab below. And don't forget to take a look at what our customers say.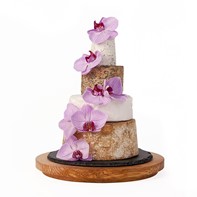 Tintagel Castle
tell me more
St Agnes
Vulscombe: There are three varieties of this beautifully presented, subtle Devon goats' cheese - this one has added black peppercorns.
Blue Vinny: Many older varieties of cheese were in danger of disappearing until the process of revival began in the last 20 years. Blue Vinny, Dorset's own blue cheese, is a case in point, having been saved by Michael Davies, who makes it in his dairy near Sturminster Newton. The delightful, slightly crumbly blue cheese has a pleasantly soft taste. Made from semi-skimmed unpasteurised milk, it's also low in fat and vegetarian.
Cornish Blue: Based at Upton Cross, on the edge of Bodmin Moor, Cornwall, Philip and Carol Stansfield spotted the gap in the market for a young, blue cheese that could compete with imported blue cheeses. Designed to be eaten as a young cheese, Cornish Blue is a very different product from traditional English blue cheeses such as Stilton or Dorset Blue.
Quicke's Mature Cheddar (12+months): All Quicke's cheddar is matured slowly on wooden shelves, wrapped in muslin cloth, to develop a real depth and complexity of flavour. The old fashioned rind that develops using this method is the hallmark of a well-matured traditional cheddar. Made in Newto St Cyres, Devon.
Somerset Brie: Creamy, with a mild, fresh flavour. Made in Cricket St Thomas, Somerset.
St Agnes with Dorstone
This option adds a Dorstone to go on the top for added height. Dorstone is an ash-covered soft goats cheese with a unique tall shape made by Neals Yard Dairy in Herefordshire.