Canonteign
Notify me when this is back in stock
This spectacular tower offers some equally sepctacular flavours - and some of our favourite cheeses. The base is Ogleshield, Jamie Montgomery's alpine-style cheese: supple, mellow and fruity. Then comes black-waxed Cornish Kern - often compared to Comté. With a striking yellow/orange rind, English Pecorino is a nutty sheep's milk cheese from the Somerset masters White Lake Cheese. A waxed baby Cornish Gouda comes next, and creamy, unique Sharpham Rustic tops it all off.
This cake would suit people whose tastes go towards European cheeses, since four of the five are inspired by, or relate to, cheese styles associated with Holland, France, Switzerland and Italy.
Around 12.3kg of cheese - feeds 120-130 people. Supplied as wrapped cheeses, undecorated. For our photoshoot, the cheese tower was decorated by the British Academy of Floral Art, whose stunning waterfall of flowers inspired the name: Canonteign, the series of waterfalls very close to Bovey Tracey.
For more details click the 'about' tab, below. To order a taster box, go here.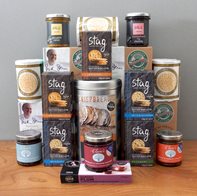 wedding bundle 125
tell me more
Canonteign
This cake contains five hard cheeses, four of which have a distinctly European influence. There are no blues or soft cheeses!
The base is Ogleshield, an unpasteurised 'washed rind' cheese made with Jersey milk - that has often been compared to raclette. On top of that is Cornish Kern. A very hard 16-month matured cheese wrapped in a black wax, its glorious nutty taste is comparable to Comté.
The English Pecorino's name suggests it was inspired by Italian sheeps' milk cheeses. This cheese is a real beauty, both for its taste and its spectacular orange/yellow rind. Giel Spiering's Cornish Gouda comes next - a mild youngish version of this beautiful cheese. Topping it off is Sharpham Rustic, a true original - and a real crowd-pleaser.