Bowerman's
Gold and green colours were the inspiration for this cake! It combines European-inspired fruity, aromatic cheeses (Merry Wyfe and Keltic Gold) with two contrasting traditional English offerings - the mildness of Cornish Yarg and the tangy edge of Smart's Double Gloucester.
Choose between the 'classic' Cornish Yarg with its covering of grey-green nettles (pictured - third cheese down) or Wild Garlic Yarg, which uses the glossier, brighter green leaves of wild garlic. The other green cheese is Chipple, which features chopped spring onions.
Our name - Bowerman's - comes from the dramatic granite spire called Bowerman's Nose, situated just a few miles from our home in Bovey Tracey.
Around 9.4kg of cheese - feeds 95. Supplied as wrapped cheeses, undecorated. For our photo shoot, the cheese tower was decorated by the British Academy of Floral Art.
For more details click the 'about' tab, below. To order a taster box, go here.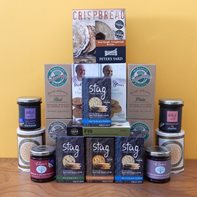 wedding bundle 100
tell me more
Bowerman's
Six cheeses linked by a green-and-gold colour theme.
From the top, we start with Katherine, a firm and very flavoursome goats' cheese from Somerset. Next, Keltic Gold is at the soft end of hard cheeses - it's a fruity and aromatic offering whose rind has been washed in cider. Also from Cornwall, Yarg is a variation on a British classic, caerphilly - but with the unique addition of a covering of leaves - either nettles or wild garlic. For Bowerman's, you can choose either. The choice will probably come down to which you prefer the look of!
Smart's Double Gloucester is an English classic in its purest form, whilst Chipple - from north Devon - brings the great pairing of cheese and onion together in a brilliant way, by adding chopped spring onions to the mellow 'Curwothy' cheese. Finally, the base is Merry Wyfe, a fruity-flavoured, elastic-textured organic cheese made just outside Bath - and which is a huge hit in our shop. Once people have tried it they keep coming back for more!