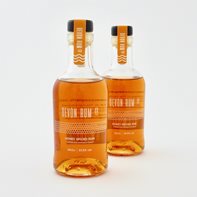 Devon Rum
This new company was born is 2020 and is now based in beautiful Salcombe.
Honey Spiced Rum 37.5%
Using locally sourced wildflower honey, a blend of exotic Caribbean rums, subtle spices and crisp Devonian spring water, the result features light floral notes, with undertones of spicy cardamom and fruity raisins. It finishes with the sweet taste of Devon wildflower honey, twists of lemon zest, juicy raisins, and a generous pinch of allspice.
Premium Golden Rum 40%
Created from a unique blend of exotic Caribbean rums from Jamaica and Guyana with crisp Devonian spring water. The result is an expertly crafted Premium Golden Rum with a 40% ABV that balances a bold tropical character with a super smooth finish. Notes of rich caramel, smoky oak, tobacco, and ripe banana, give way to smooth flavours of butterscotch, toasted oak, and fresh citrus zest.