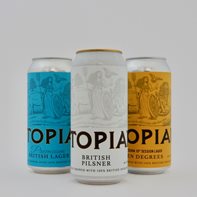 Utopian
Utopian is a relatively new brewery based in mid-Devon. Their aim is to produce the best possible naturally-brewed lagers, using entirely home-ingedients.They say:
"By 'naturally brewed' we mean that we only consider adding things to the beer that will improve the quality of the beer and we do not add things to simple make the process easier or to produce the beer faster. We don't add finings or enzymes for clarification we use cold conditioning and time.
Our beers contain just Water, Malt, Hops, Yeast and plenty of patience. And we think that's just about as natural as it can be."
Choose from:
Premium British Lager 4.7% Utopian's signature Premium British Lager is influenced by the Bavarian Helles style, but just like all their beers, it has been brewed solely with the finest, British grown malted barley and hops.
British Pilsner 4.4% Tradition meets innovation in this Czech influenced Pilsner style lager, which is now brewed with a collection of exciting young British flavour hops. Unfiltered.
Ten Degrees Czechia Session Lager 3.9% Influenced by the classical most popular Czechia style. Easy drinking fresh but full of flavour and brewed with 100% British grown ingredients.
440ml cans.