Showstopper Cheese Table
The aim here is to be able to present a simply stunning set of cheeses - thirteen in all - designed to feed 80, 100 or 120 people. We've gone for the widest possible spectrum of cheese flavours and styles whilst also picking cheeses which - together - will make a tremendous visual impression with their wide range of colours, textures and shapes. Quality, of course, should be taken for granted!
With Westcountry classics like Quicke's Extra Mature Cheddar and Dorset Blue Vinny, innovative cheeses like Dorstone and Ogleshield and a couple of our all-time favourites in the shape of Sharpham Rustic and Millstone, this Showstopper should live up to its name
For full details see the 'about' tab below.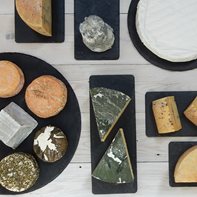 Tradition+ Cheese Table
tell me more
Showstopper Cheese Table
The 80 version has about 7.3kg of cheese
The 100 version has about 9.4kg of cheese
The 120 version has about 11.7kg oc cheese
The core trio: cheddar, brie and blue
Quicke's Extra Mature Cheddar: 18 month matured for a big strong flavour, this is made in the Quicke family's famous dairy based just north of Exeter.
Sharpham: A very special unpasteurised Jersey milk brie, one of the first to be made in the UK in modern times.
Dorset Blue Viinny: The Westcountry's great traditional blue, made by the Davies family near Sturminster Newton.
Cornish Blue: By way of contrast, this is a much milder thing altogether - we thought you'd like to have both!
Flavoured Cheeses
Devon Smoake: is both sweet and smoky. Made in north Devon by pioneering cheese maker Rachel Stephens.
Simply Cumin: from the same Curworthy dairy, this cheese borrows from Dutch tradition by adding cumin seeds - a great favourite for one of us (Ian) follwing a period working over there in the early 90s.
Other hard cheeses
Westcombe Red: a raw milk version of Red Leicester made by Westcombe Dairy in Somerset. When this cheese was introduced it reminded people that Red Leicesters didn't need to be bland and forgettable!
Millstone: a beautiful, dense, hard, dry and full-flavoured sheep's milk cheese. Made by James and David Bartlett near Shepton Mallet in Somerset.
Sharpham Rustic: possibly more semi-soft than hard, I think this will always be one of our top picks! A mellow, creamy beauty of a cheese.
Washed rind cheeses
Ogleshield: A beautiful, springy washed rind cheese made by Jamie Montgomery. It has a buttery flavour and a pungent aroma!
Rachel: A huge success for master-maker Pete Humphries, this cheese applies the same idea to a goat's milk cheese, to stunning effect.
Other soft cheeses
Dorstone: a soft goat's cheese dusted in wood ash, this has an unsual blunt-topped cone shape. Made in Herefordshire.
Eve: this soft goat's cheese is washed in Somerset cider brandy before being wrapped in a vine leaf.