quince ingots & more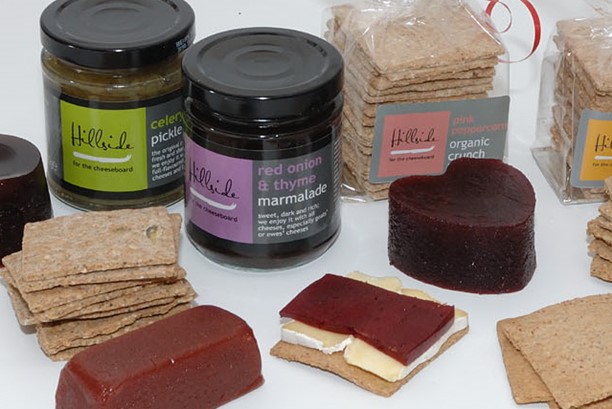 Jay Allan is an inventive Exeter-based chef who set out to create his own version of the Spanish quince paste membrillo. Finding that a little hard and often over-sweet, he has developed several unique fruit pastes which we're delighted to be stocking. His original Quince Ingot is here, but Jay wanted to take the fruit paste idea further, developing other flavours including a Plum & Port Fruit Paste, and an innovative heart-shaped version.
The heart is made with Sharpham Red Wine, Cranberry & Orange. I anticipate that it's going to be very popular with our wedding customers. Available in boxes of 6.
Not content with these gorgeous fruit pastes Jay, together with brother Will, exercised his creative powers to devise other products that would complement cheese. We've two flavours of their beautiful crunchy oat biscuits, including these Pink Peppercorn ones, and three chutneys, including an especially nice Celery Pickle.