two are new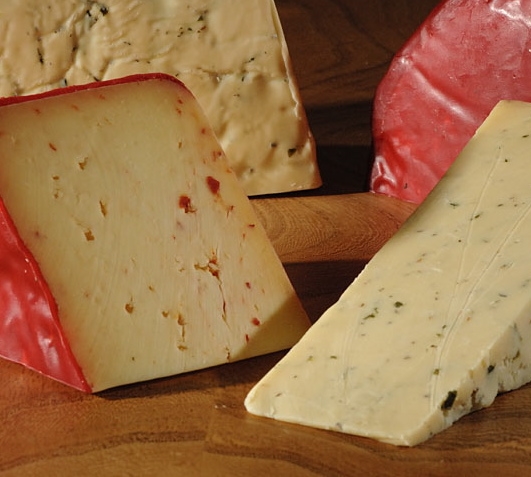 Dartmoor Chilli
The first Westcountry artisan cheese we've come across which features this particular ingredient, Dartmoor Chilli brings together the talents of cheese maker Rachel Stephens and the Dartmoor Chilli farm based near Ashburton in Devon. We think Rachel's sweet, mild Curworthy cheese is ideal for this, which uses the red 'Ring of Fire' variety (a type of cayenne). The result was described by one of the chilli growers as "poison and antidote, all in one"(!)

Since the chillies need to be fresh, this cheese may turn out to be seasonal - and we're likely to run out at some stage. We have just a few cheeses from the initial batch made last year, but I'm not sure how much more is available. We'll then need to wait for the autumn to get more. Get it while you can!

I came across this at the Moretonhampstead Food Festival where Rachel was on her stall, braving monsoon-like conditions. The samples I tried were exciting and I immediately realised this was new for the Cheese Shed, and it got me thinking about flavour-added cheeses in general: it struck me that we really don't have enough cheeses with herbs. Which was when I realised that we'd been overlooking the most obvious one of all.
Quicke's Cheddar with Herbs
I can't believe it's taken us almost seven years to be offering this. What could be more obviously appealing than the combination of a great cheddar with cooling, savoury herbs? This could be a resigning issue (ok, I'll get my coat). But better late than never, here is Mary Quicke's signature cheese - her cheddar - with a special blend of chives, parsley, orgeano, marjoram and thyme added prior to maturing so that the flavour develops right through the heart of the cheese. An irresistible combination.