cheese boards & knives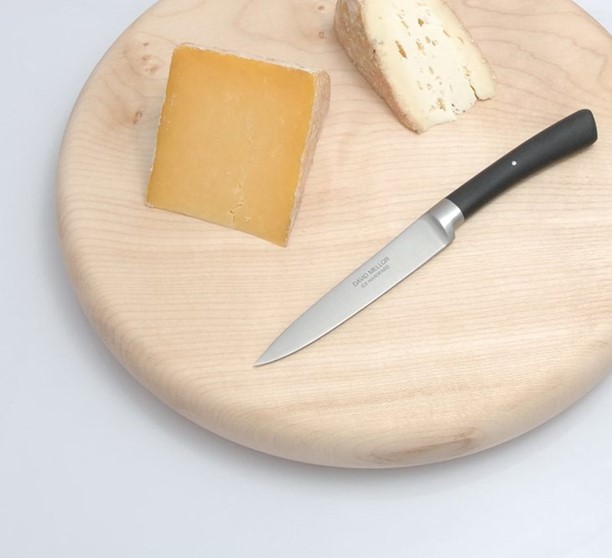 So when we decided to add knives and cheese boards to The Cheese Shed, I wanted to make sure they'd been made with the same care and integrity that our cheesemakers apply to their work.
Finding some really good knives was a challenge, but what we're ended up with is about as good as it gets. David Mellor has been producing the most admired British cutlery and knives for over 40 years. When I saw their 'Black Handled' range - designed by his son Corin Mellor - it was love at first sight. These knives are razor-sharp, feel perfect in the hand and look - well - gorgeous. We're offering a Cheese Knife, a 12cm Cook's Knife and smaller 10cm Paring Knife.
The cheese boards needed to be just as good - and I think they are. We've gone to two hugely respected and very experienced woodturners for boards which are classically simple and beautifully made from English hardwods. Ray Key is providing a gorgeous pale sycamore board (seen left), while for his board Dave Regester prefers the bold grain of ash.
To contrast with those, we have a more quirky contemporary design from Yorkshire-based Circle 52, made in birch plywood. It's quite a different sort of thing, but I love it.