farewell Menallack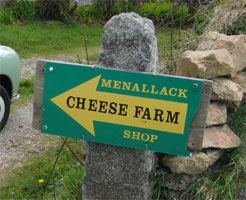 Menallack, based just outside Penryn in Cornwall, was really the creation of Caryl Minson. When husband John gave up his career in the telecom world, the two moved west and Caryl started to experiment with cheesemaking. Her energy and inventiveness was matched by John's ingenuity and practical skills, making and adapting the equipment needed.
I never met Caryl, who died around the time The Cheese Shed started, but the business continued under John and his right-hand-women Jess & Holly. I enjoyed visiting Menallack and marvelled at the sheer number of different cheeses they made - soft, hard, blue, flavour-added, all types of milk, you name it! I don't think I know another dairy that produced such a huge range - and mainly for the local, West Cornish market (Jess called them 'Cornwall's best-kept secret', and there was something in that). Among our favourites were the cheshire-inspired Menallack itself and two lovely ewes' milk cheeses, Nanterrow and Tala; we'll especially miss the mixed milk Treverva Green, Mrs Finns & Heligan which were pretty much unique.
In mid-December I picked up a final batch of cheese destined for our Christmas boxes, and John explained that with the recession, business had been tough over the last year and that sadly he had decided to call it a day. Our best wishes go to John for his retirement: we'll miss Menallack and its great cheeses.