Fresh & Fruity: A Great Summer Partnership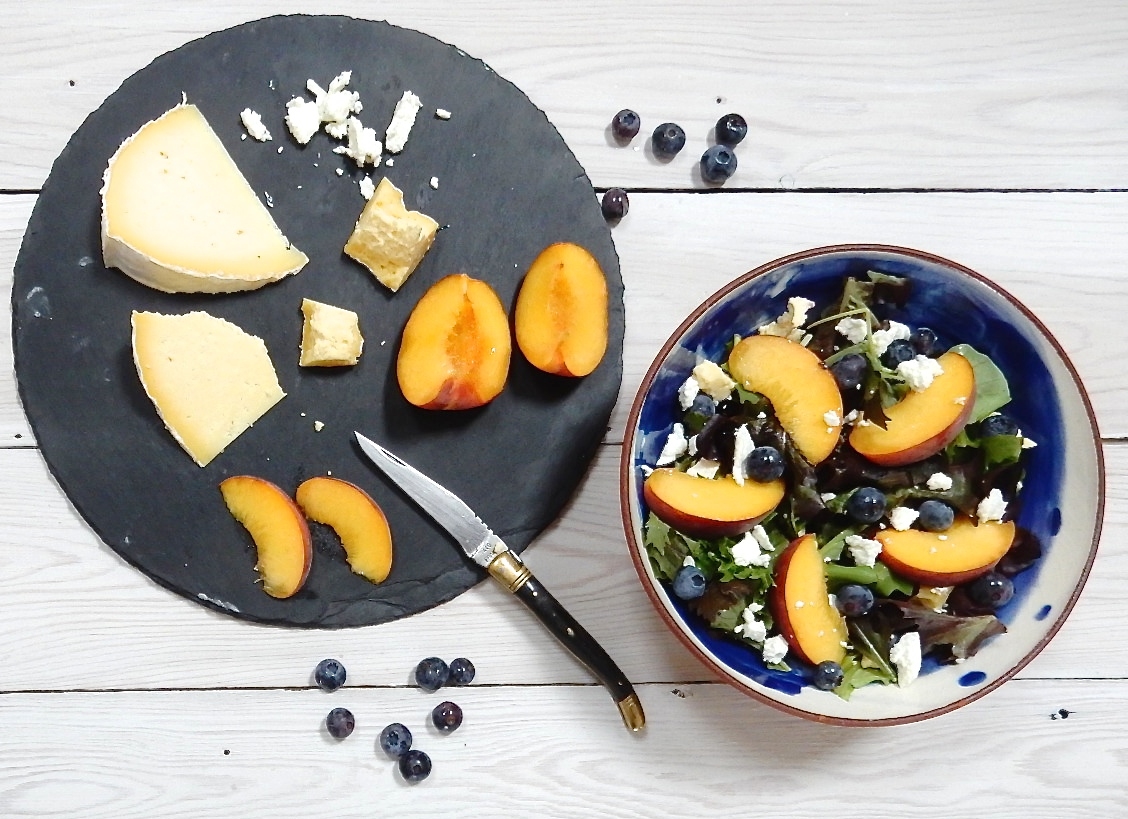 I don't know about where you are, but down here in Devon it's been pretty hot recently. So cheese-wise, what works in the summer? Well, one of our favourite things is to team up a soft, light-tasting cheese with some fresh fruit. For the two ideas here we'd be thinking semi-soft or soft ... maybe not brie ... something you can crumble. And: mellow flavour, gentle, nothing aggressive.
Salad leaves work beautifully with sliced peaches, blueberries and a bit of crumbled cheese ... for our lunch we used Sharpham Rustic and Oakdown, but a Duckett's Caerphilly would be good, too. Needs a dressing of course, ours was olive oil with apple cider vinegar, crushed garlic, some dijon mustard and a bit of honey.
Or, how about this. We took an Oakdown - a very mild, very soft goats' cheese made by Max Pillar on his smallholding in the Teign Valley - and set a slice on top of a Rick Stein oatcake.* Then we added a slice of kiwi fruit and decorated with strawberry pieces and topped it off with a blueberry. "Looks good enough to eat", my colleague James quipped. I should hope so too! Something we learned by experience - don't make this too far in advance or the juice in the kiwi will make the oatcake go soggy. And we say a firm no to soggy oatcakes.
And when we think about the wines for this mouthwatering salty-sweet combo, our resident winemaker Ian Renwick has this to say: "I suggest either the Citadelle Chataignier, which, while still fresh, has enough body and fruitiness to stand up to both the cheese and fruit, as well as the tangy salad dressing, or a light, fruity red such as the Red Boar Bobal. Both of these won't overpower the salad, but they will add an extra dimension to it!"
*The Bartlett brothers' ewes' milk Dumpling would work well for this, too.