Steps Bridge
One of two cakes (the other is Burgh Island) we've created to work for really small numbers, Steps Bridge features soft, blue and hard cheeses, the whole thing weighing in at about 2kg.
Feeds: 20-25. Size: diameter 15cm, height 25cm
Supplied as wrapped cheeses, undecorated. To order a Taster Box, go here.
Would You Like To Know More?
For a full description see the 'about' tab below. And don't forget to take a look at what our customers say.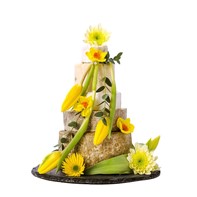 Burgh Island
tell me more
Steps Bridge
Use the drop down menu to chose from two alternative bases. Steps Bridge 1 features Cornish Smuggler (which may be - no, it is - the worlds prettiest cheddar). Steps Bridge 2 uses Miss Muffet (springy-and-sweet).
Sitting on the base are two beautiful blues - both from Cornwall - 500g of Cornish Blue and a smaller Helford Blue. At the top are two contrasting soft goats' cheeses: Vulscombe with peppercorns and a tiny Capricorn.
Don't forget that what we're supplying is only the cheese. So you'll need to find a creative person to take on the decorating duties.