Small Eighty-Eight
This cake, with its theatrical black-and-white look, has been a great favourite of our customers for years. Recalling art deco and the sophisticated 30s, this is just a lot more glamorous than any cheese has a right to be! We started from our usual Westcountry favourites, but added in two 'outsiders' (Black Bomber from Wales and Cambazola from Germany) in order to make the sizes work.
This 'Small Eighty-Eight' reduces the height of two of the wheels to produce a version suitable for around 70. There also regular and large versions which feed 100 and 140 respectively.
Feeds: 70. Size: Diameter 24cm, height 31cm
Supplied as wrapped cheeses, undecorated. To order a Taster Box, go here.
Would You Like To Know More?
For a full description, see the 'about' tab below. And don't forget to read what our customers say.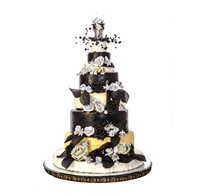 Large Eighty-Eight
tell me more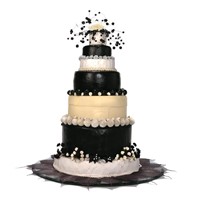 Eighty-eight
tell me more
Small Eighty-Eight
Using black and white cheeses creates a striking, dramatic and much more designed look. Finding cheeses to make this was quite a challenge, and to do it we've had to venture a little outside our usual Westcountry selection. But the seven-layer result is one that we're delighted with, and if you want to amaze your guests this might be one way to do it!
The black cheeses are waxed, and two of them (the biggest and smallest) are the Snowdonia Cheese Company's 'Black Bomber'. Now take note: this is a properly strong cheddar. The middle-sized black cheese, however, is a great contrast - Devon's own Curworthy, a lovely mild, easy-going thing.
As for the whites, down at the base is a Cambazola - the very popular German blue brie. Next one up is a Duckett's Caerphilly - a classic which, again, will contrast nicely with the cheddar. A Cranborne brie and a very small Capricorn complete the picture.
7kg in all: we'd see this as suiting around 70.