Large Eighty-Eight
This black-and-white beauty is a larger version of the classic 'Eighty-Eight'. Like it's smaller brother, it uses cheeses that have a natural white rind with others which have been black-waxed. By making a couple of changes, and adding a layer, we've managed to produce something with a beautiful graduated shape, a great mixture of cheeses, but retaining the striking look.
We also have regular and small versions of the same idea, to feed 100 or 70 people.
Feeds: 140. Size: Diameter 33cm, height 45cm
Supplied as wrapped cheeses, undecorated. To order a Taster Box, go here.
Would You Like To Know More?
For a full description, see the 'about' tab below. And don't forget to read what our customers say.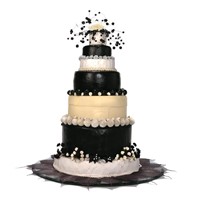 Eighty-eight
tell me more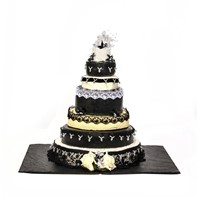 Small Eighty-Eight
tell me more
Large Eighty-Eight
Using black and white cheeses creates a striking, dramatic and much more designed look. Finding cheeses to make this was quite a challenge, and to do it we've had to venture a little outside our usual Westcountry selection. The orginal Eighty-Eight has seven layers and feeds about 90; here we've made a couple of changes and moved up to eight layers, resulting in a cake to feed around 140.
The black cheeses are waxed, and two of them (the biggest and smallest) are the Snowdonia Cheese Company's 'Black Bomber'. Now take note: this is a properly strong cheddar. The middle-sized black cheese, however, is a great contrast - Devon's own Curworthy, a lovely mild, easy-going thing.
As for the whites, down at the base is a Somerset Brie. Next one up is a Duckett's Caerphilly - a classic which, again, will contrast nicely with the cheddar. Beenleigh Blue has an overall white appearance with tiny light blue flecks. A Cranborne brie and a very small Capricorn complete the picture.