Haytor Rocks
Haytor Rocks was the first off-the-peg cake we offered, and we made sure it ticked all the important boxes. Cheddar, blue, brie, goat? They're all here, plus a stunning fifth cheese.
Size: Diameter 33cm, height 29cm
Feeds: 120 (or 50 in the 'Small' version which omits the cheddar base - see the 'about' tab)
Like all our cakes, Haytor Rocks is supplied as wrapped cheeses, undecorated. To order a Taster Box, go here.
Would You Like To Know More?
For a full description see the 'about' tab below. And don't forget to take a look at what our customers say.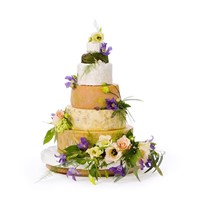 Dartington
tell me more
Haytor Rocks
A sturdy base for this cake from one of our favourite makers of traditional cheddar: Westcombe. Tradition then gives way to a modern classic, the nettle decorated Cornish Yarg. The patterns made by the hand-applied covering of leaves are simply stunning.
The 1kg round version of Sharpham is next. This brie-style cheese is made using Jersey cow's milk from their farm by the River Dart. Cornish Blue won Best English Cheese and
Best Blue Cheese in 2006, which is all one needs to say about this sensational blue. Finally, Nanny Florrie, a beautiful goat's milk brie, tops it off.
Small Version
We also sell this one without the cheddar base - so just the four layers. From the top down: Nanny Florrie, Cornish Blue, Sharpham and Cornish Yarg, and this would suit about 50-60. Just choose the 'Small' option from the drop-down menu above.