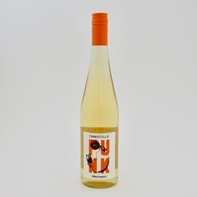 Funkstille Skin Contact
This Austrian wine is a blend of Riesling, Grüner Veltliner, and Traminer grapes.
The term 'skin contact' means that the pressed grapes are left so that the juice is in contact with the skins (also called 'maceration'). This extracts extra tannin and flavour, and produces a hint of orange colouration.
With its peach, apricot and grapefruit aroma, it's a very fruity wine.
'Funkstille' means 'raio silence', the makers thinking that we all need a bit of peace in our lives ... possibly with a glass of wine.
Austria, 12.5%